Honda Hubcaps Wheel Covers Information
Honda hubcaps are held on by the lug nuts
Back in the mid 80's when driving a Japanese import was not quite as fashionable as it is today, Honda became the first company to come up with wheel covers that were held on by the lug nuts. The concept was actually quite simple, but it took most other car companies 15+ years to follow (some still have not) and the standard was set. Honda still makes some of the best hubcaps on the road.
Installation takes a bit more work, but the extra effort is worth the knowledge that you should never under normal circumstances loose one. They utilize a chrome lug nut with a snap on washer. The washer retains the wheel covers to the vehicle through lug holes in the center.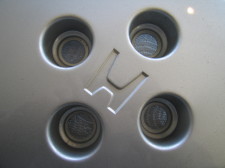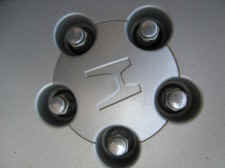 Fig. A Fig B
One item of note. If your Honda does not currently have factory Honda wheel covers on it and you wish to add them, be sure the little black washer is present on at least half of the lug nuts for each wheel. The washer snaps into a ridge about halfway down the center of the lug nut. Most Honda's should have these washers, but if yours does not, they will need to be purchased at yourHonda dealer. Honda hubcaps will NOT retain on the vehicle without these washers.
Another important item is interchange between different styles. Interchanges between different models generally does not work. For sure Accord and Civic hubcaps will not interchange because the distance between the bolts (bolt pattern) is different. Accords have a 115mm bolt pattern and Civics have a 100mm bolt pattern.
Honda hubcaps are also somewhat year specific. Look on the Honda Hubcap catalog to see what years a particular hubcap spans. Certain years will interchange and certain years will not. Since rim sizes and configurations change every few years, sometimes there is a problem fitting a different year model on your car. If you want a hubcap from a different year for your car, your best bet is to contact us and ask. An answer to this question could save you time and shipping.
About Hubcap Heaven and Wheels
There are numerous websites on the net that state " logo not included" or do not show an emblem on the photo of the hubcaps. All of our factory original hubcaps and wheel covers come complete with the "H" logo. Any replica style will be clearly marked in the picture and on the order page. There is nothing wrong with many of the replica's, in fact they can save you money and some of the older Honda hubcaps are very hard to find. But we want you to know exactly what you are getting, no surprises.
For more information such as determining your correct Honda hubcaps size and other question, please visit our FAQ and article page. For further discussion or questions, give us a call at 800-301-5814. As always, we are happy to help.
Accord hubcaps
Civic hubcaps
Del Sol hubcaps
Odyssey hubcaps
Prelude hubcaps