Hyundai Hubcaps Wheel Covers Information
Hyundai hubcaps employ basically two attachment systems. Each requires specific installation techniques and special care while installing to ensure long term retention.
Basic Hyundai multiple clip snap on
Mostly this system is used on Hyundai Sonata, . With this type there are a series of metal clips that run around the back diameter of the hubcap (fig A).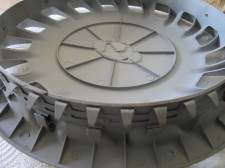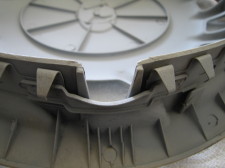 Fig. A Fig. B
These wheel covers are easy to snap on. Once the wheel covers is correctly aligned with the valve stem opening, one just simply taps the hubcap into place. There is a groove on the back edge of the hubcap (fig B) this is where the valve stem lines up.
Loss of these wheel covers occurs because these clips need to be stretch back out before the hubcap is reinstalled. When the wheel covers are taken off and put back on several times for maintenance, brakes, etc, the clips tend to get push in somewhat. This this makes the wheel covers loose and increases the possibility of loss. Stretching these clips outward before every installation can go a long way to insure the hubcap stays in place.
We recommend using a rubber mallet or the back of a fist to "tap" them into place when installing. Do not use excessive force, the hubcaps should snap into place with moderate pressure.
Hyundai hubcaps held on behind lugs
The Hyundai Accent, 95 and up Elantra, some Sonata's and the Tiburon use this type of hubcap attachment system. In my opinion, this was the best system ever and unless the installation is completely botched, it is virtually impossible to lose these wheel covers. Simply, the wheel covers were held on by the lug nuts. Installation takes a bit more work, but the extra effort is worth the knowledge that you should never under normal circumstances loose one of these hubcaps. This style of hubcap utilizes a chrome lug nut with a snap on washer. The washer retains the wheel covers to the vehicle through lug holes in the center.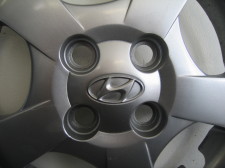 Fig. C
One item of note. If your Hyundai does not currently have factory Hyundai wheel covers on it and you wish to add them, be sure the little black washer is present on at least half of the lug nuts for each wheel. The washer snaps into a ridge about halfway down the center of the lug nut. Most of the above mentioned vehicles with factory original steel wheels should have these washers, but if yours does not, they will need to be purchased at your Hyundai dealer.
More about Hubcap Heaven and Wheels
There are numerous websites on the net that state " logo not included" or do not show an emblem on the photo of the hubcaps. All of our factory original hubcaps and wheel covers come complete with the "H" logo. Any replica style will be clearly marked in the picture and on the order page. There is nothing wrong with many of the replica's, in fact they can save you money and some of the older Hyundai hubcaps are hard to find. But we want you to know exactly what you are getting, no surprises.
For more information such as determining your correct Hyundai hubcaps size and other question, please visit our FAQ and article page. For further discussion or questions, give us a call at 800-301-5814. As always, we are happy to help.
Accent hubcaps
Elantra hubcaps
Sonata hubcaps
Tiburon hubcaps
1-800-301-5814
50% up to 70% off dealer list prices!!
Free shipping in the lower 48 states.
We are proud to be an Authorize.Net merchant. Click on the logos below to verify.




Hubcap Heaven
13840 Bellaire Rd
Cleveland, Ohio 44135
1-800-301-5814
Hours EST
M-F 9:00AM-6:00PM
Sat 9:00AM-3:00PM