Saturn Hubcaps Wheel Covers Information
All Saturn hubcaps use the following retention system. Since the first year Saturn has employed plastic caps (see illustration A) that attach to the hubcap and thread on to the lug nuts. The lug nuts on these vehicles (illustration B) have outside threads that accommodate the plastic caps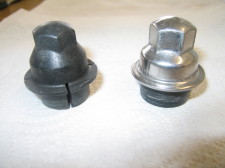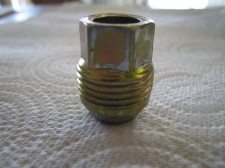 Fig. A plastic caps Fig. B GM threaded lug
Installation of these wheel covers is easy. Line up the wheel cover to the lug nuts being careful to ensure the valve stem is lined up with the slot that has been precut into the wheel covers. If you turn the hubcap over, there is usually a icon indicating where the valve stem should go (illustration C).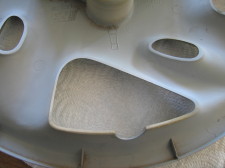 Fig C. valve stem slot
Using a 3/4" socket or lugs wrench, thread the caps onto the lugs. Do not over tighten them or use any kind of air tool as this will strip out the threads, possibly causing a future loss. These lug caps only need to be snug tight.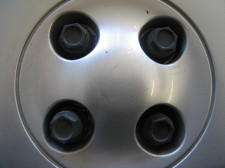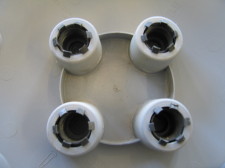 Fig D. Saturn front Fig E. Saturn back
There are numerous websites on the net that state "center cap not included" or do not show an emblem on the photo of the hubcaps. All of our Saturn hubcaps are factory original and come with the attachment caps, ready to install.

For more information such as determining you correct Saturn hubcaps size and other question, please visit our FAQ and article page. For further discussion or questions, give us a call at 800-301-5814. As always, we are happy to help.
1-800-301-5814
50% up to 70% off dealer list prices!!
Free shipping in the lower 48 states.
We are proud to be an Authorize.Net merchant. Click on the logos below to verify.




Hubcap Heaven
13840 Bellaire Rd
Cleveland, Ohio 44135
1-800-301-5814
Hours EST
M-F 9:00AM-6:00PM
Sat 9:00AM-3:00PM